Bald (Rondaxe) Mountain
Fire Tower Restoration Project
Website Provided By
Friends of Bald Mt., Box 206, Old Forge, NY 13420

Cab needs windows - painting
Photos of Bald (Rondaxe) Mountain Fire Tower,
north of Old Forge, NY.
All Pictures taken during the summer of 2002
Thousands of hikers climb to the beautiful summit of Bald Mt. each year and have witnessed the deterioration of the Fire Tower over the last 10 years. We hope we can encourage the NYS Department of Conservation (DEC) to match our volunteer donations and help us to save this landmark heritage site.
Please help us by sending in a donation today to:
Friends of Bald Mountain
Box 206, Old Forge, NY 13420
The Friends of Bald Mountain are affiliated with Adirondack Architectural Heritage, a not-for-profit, 501 (c)(3) organization. Donations are tax-exempt as provided under the law.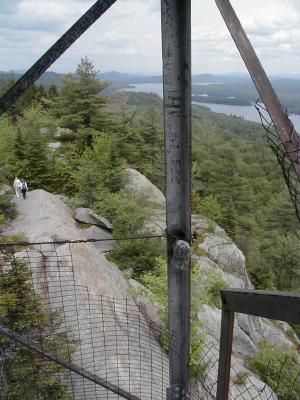 Security fencing torn & needs replacing