Bald (Rondaxe) Mountain
Fire Tower Restoration Project Progress Report
Website Provided By
Friends of Bald Mt., Box 206, Old Forge, NY 13420
September 18th, 2004 - Workday
Work Crew Welcomes First Visitors into the Cab!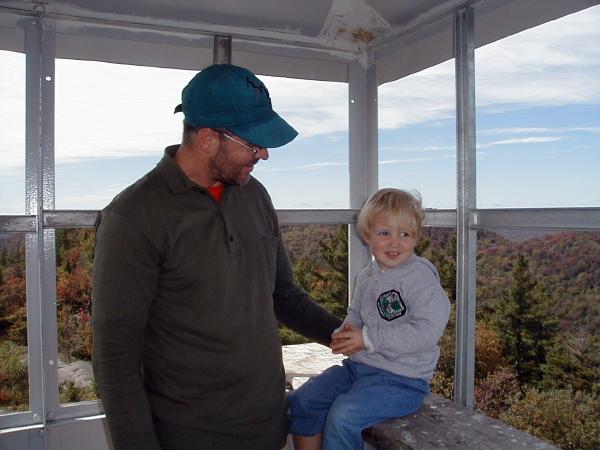 Throngs of visitors offered words of encouragement to the September 18th work crew including Gerta, not yet 3-years old, who is already a veteran fire tower hiker. Wearing her "Friends of Mt. Arab" patch, Gerta's father assured us she does have another jacket with a "Friends of Bald Mt." patch - the primary fundraiser that has provide money for the restoration of the our fire tower.
Thanks to good weather & an energetic team, visitors were allowed into the Bald Mt. Fire Tower cab on Saturday, locked up since 1990. The tower will open officially once a DEC inspection takes place. Among the projects completed on Sept. 18th: re-installing the first flight of stairs & railing, 2" x 4" wood cleat supports under each platform, removal of the padlock, door, and dilapidated plywood cab floor, and - the installation of a new pressure treated cab floor. Plywood concrete forms were constructed onsite to repair two of the tower footers. (More Workday Photos Link)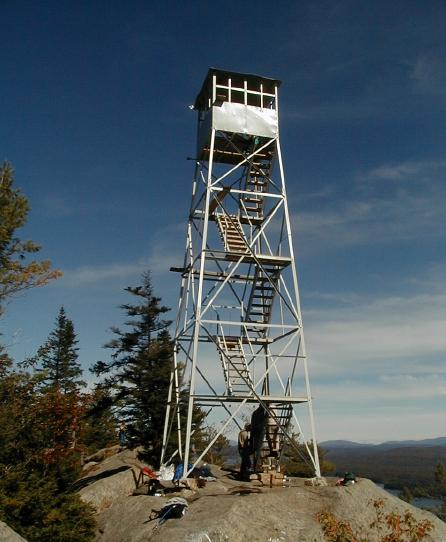 We're not finished yet - security fencing along the stairs & platforms will be installed within the next week. Bills need to be paid! And we've got a bundle of old materials to tote off the mountain before the winter snows. Donations are still needed for the signage & a maintenance materials reserve fund.
The Bald Mountain Fire Tower Restoration Work is completely dependent on donated funds from all those who agree with us that the tower is an historic treasure, a destination point for thousands of visitors in the Old Forge region annually, and a tangible link to the dedicated foresters that help to preserve thousands of acres of forestland in the Adirondack Park during the past century.
Please help us by sending in a donation today to:
Friends of Bald Mountain
Box 206, Old Forge, NY 13420