Bald Mountain Fire Tower at 100
Several of the Friends of Bald Mountain Fire Tower volunteers met in the spring at Old Forge with Scott Healy and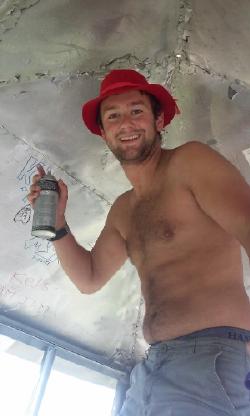 Michael Marsh, foresters with the Lands and Forestry Division of the Herkimer DEC office to plan our rehab priorities for the centennial anniversary of the historic fire tower. During the spring and & early summer, volunteers made several trips to the summit to remove trash and put a quick coat of aluminum paint on the interior of the cab. Out of the blue one day, appeared "Jack from Third Lake" (right) who coincidentally had brought up several cans of silver spray paint to obscure some of the markings inside the cab. Our thanks to Jack for his help, especially for climbing up on the table to paint the cab ceiling.
This year, three new volunteers from the Old Forge area joined us at our spring meeting: Carol Perkins, Linda Grace, and Paul Scheidelman. Carol, Linda, and Sect/Treas Peg Masters spent several workdays in August & September sanding out graffiti and repainting the cab inside and out. Based on the research from Jon Wolbert from Sherman Williams, we first applied a coat of Corothane MIO Aluminum Coating which was allowed to dry overnight. This was covered over with 1k Siloxane Anti-Graffiti Coating, a clear finish that can be scrubbed to remove markings.

Re-Painting the Fire Tower Cab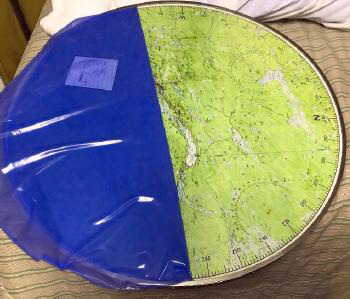 Our second priority was to replace the map table in the cab. This was the second one installed during 15-year tenure as stewards of the fire tower, but it had been grossly marred and scribbled upon, plus the plywood based was beginning to rot. Our thanks to Larry Coon, charter FoBM volunteer from Rochester, who had a new map printed. Paul Scheidelman researched the table components and decided it should be mounted on marine-grade wood & covered with a thick lexicon clear top. A metallurgist friend of Paul's donated the new rim for the table. All the materials were acquired in the late fall and assembled by Paul (photo left), but winter weather prevented the installation of the new map table this year. Visitors will no doubt be pleased with the results of Paul's work when they hike up to the tower next spring.
Old Map Table in the Bald Mountain Fire Tower Cab
Other News from our Centennial Year!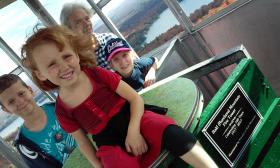 Plaque: To promote the 100th anniversary of our tower, a centennial-engraved stamp was used to mark the pages in our log book at the kiosk. It should be noted, that a significant number of the thousands of visitors that hike to the tower - sadly do NOT sign the log book. In addition, an 8" x 10" Plaque was ordered from Speedy Awards & Engraving in New Hartford, NY. Late in October - the plaque was mounted on the cab door - with a little help from some adorable visitors: Moriah, Asa & Eli. Also helping was another cousin Hadley. Times like this make all our work to preserve this landmark for the next generation worthwhile!
Religious Service: On a beautiful Sunday in June, hikers were surprised to find Fr. Howard Venette officiating at a Catholic Mass on the summit of Bald Mountain. Fr. Venette is the pastor of St. Bartholomew's Church in Old Forge and St. Anthony's Church in Inlet. All summer long, he was seen hiking about Town in preparation for a trip to Northern Spain in the fall to hike for several weeks along the "Way of St. James" trail. The inspirational service was an opportunity to reflect on how blessed we are to have this sacred place in the heart of our community. Hundreds of couples have gotten engaged here, loved ones' ashes have been scattered, and several weddings have taken place at this historic site. We hear great stories all the time how multi-generational families (like Jack's from Third Lake) make it an annual tradition to hike to the Bald Mountain Fire Tower.
June 11, 2017 - Mass on the Summit
Parking: A discussion on the parking situation, especially during July, August and during leaf season, occurred at our June meeting with DEC representatives. We were told by Scott Healy that DEC has no plans at this time to expand the parking lot on the Rondaxe Road. This subject has been brought up at Town of Webb board meetings in the past. Overflow parking on both sides of the Rondaxe Road could prevent emergency vehicles from getting through to fires or ambulance calls. The Rondaxe Road is a county road - and the Town Supervisor has contacted Herkimer County and NYS DOT about posting signs restricting parking to one side of the road only.
Furry Friends Stories
Cappy - the Guide Dog: In the 1930s, an amazing shepherd-mix dog named "Cappy" was an unofficial guide for Bald Mountain hikers on a daily basis. Cappy lived with his owners William (Wolcott) E. Brown & his wife Beatrice Holt-Brown who were seasonal employees from Port Leyden at the Bald Mountain House along Rt. 28, four miles north of Old Forge. William & Beatrice worked at the resort for some 23 years and were the proprietors of a roadside cafe called the Bald Mountain Rest.
Several times a day, Cappy would carefully cross the highway and escort hikers up the old trail above Third Lake to the summit of Bald Mountain. When they lagged behind, he would sit back on his haunches and wait for them to catch up. Once on top, he guided them up the stairs to the cab of the fire tower, then bound back down the trail to greet a new group of hikers. Cappy had a knack for remembering climbers from previous years who were always thrilled to greet their canine guide once again.
One year in 1938, a dentist from NYC lost his dog on the summit when it slipped off a cliff. An extensive search was conducted but finally the owner returned to NYC without his pup. A week or so later, William and Beatrice noticed Cappy searching the kitchen for bones which he then carried across the road to the Bald Mountain trail. Following three days of torrential rain, they looked out to see Cappy crossing the road to the cafe, carrying the bedraggled, half-dead, lost dog by the knap of his neck. His owner was notified and soon a joyful reunion took place at William & Beatrice's cafe. The story was picked up by a national wire service and that September, Cappy was presented with a "Greatest Dog of the Year" plaque by a dog food company.
Hundreds of photographs were apparently taken of hikers with Cappy - the Bald Mountain guide dog during this time period. Somewhere, someone likely has one of these pictures in an old family album. The FoBM committee would love to locate one of these photos to add to our archival collection. Send it to FoBM, Box 914, Old Forge, NY 13420 or a digital copy by email.
Oliver - the Fox: Hundreds of photographs were taken this year by hikers of the 2017 mascot of Bald Mountain - nicknamed "Oliver" by one of our committee volunteers. Oliver and a couple siblings were seen on the summit all summer, and may have been fed by some folks unfortunately. The photo below was taken on one of our last work days, when Oliver, wandered up to us as we cleaned up our paint brushes and packed up our gear. One week, a story about Oliver appeared in our local paper, much to our chagrin - as there are still fur trappers in the area who might find this friendly group of foxes an easy target. As tempting as it may be - PLEASE to not feed wild animals when hiking here in the Adirondacks - it is often a death sentence for our native fur friends.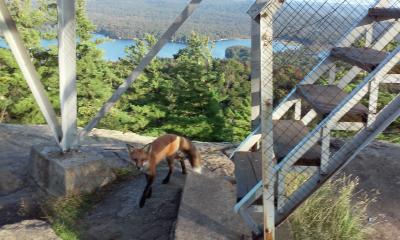 Volunteering to help the FoBM committee is a very rewarding experience. We work in one of the most beautiful places in the Adirondacks and meet the nicest people. You don't need to live here in Old Forge to volunteer. A simple form needs to be filled out and filed with the DEC office in Herkimer to be covered by workman's comp. Send us a note and we'll provide the form and details and notify you of scheduled workdays.
Reminder: PATCHES SOLD OUT
The committee decided to conserve our funds for rehab supplies and will not be re-ordering and new patches at this time.
Thanks for Visiting our Site!
- send a note if you would like to help or share a story or photo.
Back to Friends of Bald Mt. Homepage

Created by: Masterpiece Productions of the Adirondacks
Webmaster
Last updated: December 27, 2017