Bald (Rondaxe) Mountain
Fire Tower Restoration Project
Friends of Bald Mt., Box 206, Old Forge, NY 13420
2007 Progress Report
<![if !vml]>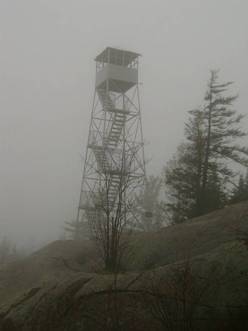 <![endif]>
Foggy Day at the Bald Mt. Fire Tower in April of 2007
Photo submitted by Warren Johnson
The Friends of Bald (Rondaxe) Mountain (FoBM) executive board continued to work on Phase III of our restoration projects during 2007. One of the primary initiatives was to renew our 5-Year Adopt-A-Natural Resource (AANR) agreement with DEC. The application was submitted in April of 2007 by Co-President Ann MacBride and news of its approval was sent to our Treasurer Janice <![if !vml]>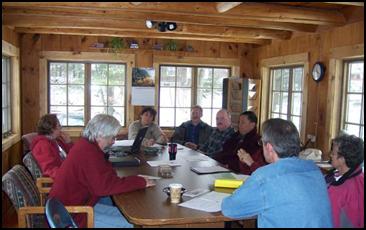 <![endif]>Ferrick in the late summer.
It is hard to believe 5-years had gone by since our restoration group organized. One of the first decisions the board addressed at its November 2006 meeting in Old Forge (photo left) – was to elect officers for the upcoming year. All 2006 officers, who have been members since the formation of FoBM, agreed to stay on in their current positions. The officers for 2007 are: Co-Chairmen Ann MacBride from Wilmington, Co-Chairman Barb Ball, Treasurer Janice Ferrick, and Secretary Peg Masters, all from Old Forge. Our five-year association with Adirondack Architectural Heritage (AARCH) - headquartered in Keeseville, NY as the not-for-profit sponsor was also due to expire. The policy of AARCH to assist fire tower groups during their startup period greatly helped us obtain tax-free restoration materials, not-for-profit benefits for donors, and statewide governmental support and recognition for our project. THANK YOU AARCH, and especially Exec. Director Steven Engelhart, for being there for us!
Not-For-Profit Status
During our first 5-years, donations totaling $15,536.44 were collected and we entered 2007 with a balance of just under $4,000 in our treasury. The Board decided to establish an account in Old Forge to allow for deposits and withdrawals locally and maintain our local mailing address. Since Phase III of our AANR agreement focuses on maintenance of the tower, the trail, and interpretation, the balance is being held in reserve as an endowment fund. The decision to incorporate as a not-for-profit organization on our own was deemed financially too expensive. Affiliation with one of the newly formed regional fire tower groups in the Adirondacks/Catskills is a possibility the Board plans to consider.
Route 28 Construction at the Rondaxe Rd. in the fall of 2006 (left) and the spring of 2007 (right)
<![if !vml]>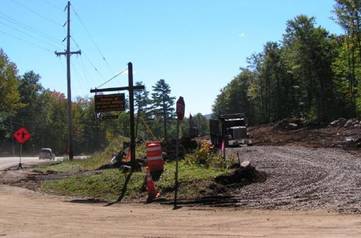 <![endif]> <![if !vml]>
<![endif]>
Maintenance & Interpretation
No workdays were scheduled during 2007 by FoBM partly because we did not receive the AANR agreement until September, we were not called upon to assist with trail maintenance by our local ranger, and most of our volunteers live a great distance from the Old Forge area. Our thanks to Larry Coon – volunteer from Rochester, for re-staining all the steps, cab floor and landings. Throughout the entire restoration process, none of our volunteers have received reimbursement for travel expenses. Our website too is provided without charge, as are all expenses related to correspondence with committee members, donors, agencies, affiliates, and inquiries. FoBM <![if !vml]>
<![endif]>members continued to monitor and photographically document progress on the access to the Rondaxe Rd. off Route 28 just north of Old Forge which remained under construction throughout the spring. The new parking lot opened in time for the summer crowds. In 2005, FoBM assisted Chuck Vandrei at the DEC Historic Preservation office in Albany Herkimer in the design of an interpretative sign to be placed in a new kiosk-trailhead register once the parking lot work was completed. FoBM paid for two all-weather signs at a cost of $250/each, which are on display at the DEC office in Herkimer, NY. Construction of a new trailhead kiosk to house the interpretative sign we were told was underway at the Lowville DEC headquarters. Despite several visits in 2007 to DEC office in Herkimer by FoBM Board members and email/letters to DEC regarding our new interpretative sign, it has not been installed at the trailhead as of yet, but we remain hopeful.
The steel fire tower celebrated its 90th year on the summit of Rondaxe Mt. in 2007. The restored tower with its interpretative map table in the cab sustained very little wear & tear in the past year (photo right). Thousands of visitors enjoyed the panoramic views of the Fulton Chain of Lakes and very little garbage was collected along the trail or summit. More history has been discovered on former tower observers and several people sent vintage photos to us which we love to receive. Patch sales, our primary fundraiser project, have dropped off but a limited quantity are still available via email requests, at the Old Forge Hardware and Souvenir Village stores in Old Forge, and at the Adirondack Mountain Club headquarters in Lake George, NY. Interpretative brochures at the trailhead have been discontinued as a cost-saving measure for the time being. Thanks to those who wrote to ask that we keep the website updated – we are always glad to hear from supporters and enjoy hearing about your trips up to the fire tower – and past connections to this historic landmark.
<![if !vml]>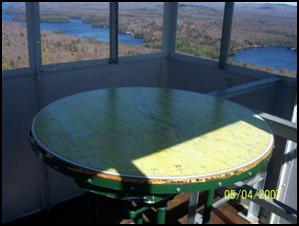 <![endif]>More History of the Fire Tower
The Rondaxe – or Bald Mt. controversy has surfaced for years as illustrated in the May 11th, 1927 Utica Daily Press article when local businessmen urged the State Conservation Commission to revert back to Bald Mt. rather than Rondaxe Mt. which "has proved most unpopular among residents of section."
An April 27, 1936 article in the Utica Observer Dispatch acknowledged Harriet Rega as the State's only female fire tower observer. Harriet, formerly of Rochester, was starting her 11th year working as a fire tower observer. The article also included a reader-submitted poem in her honor. George Fallon of Old Forge followed Harriet as the summit observer and is shown in a 1938 photo with his dog "Pete."
<![if !vml]>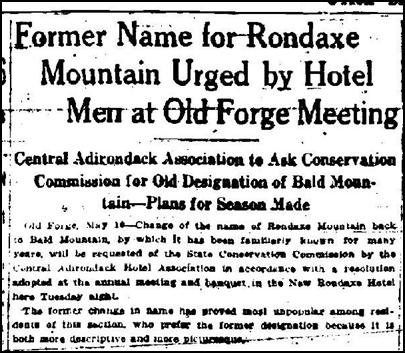 <![endif]>
<![if !vml]>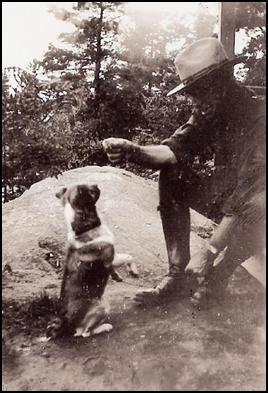 <![endif]>
<![if !vml]>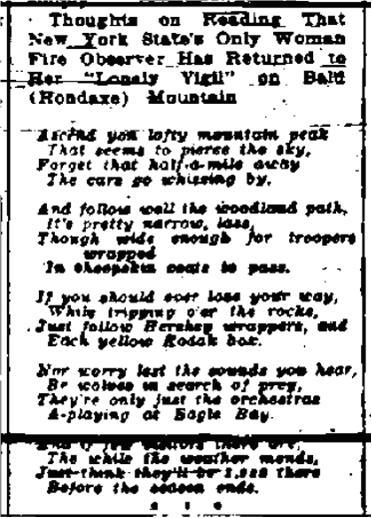 <![endif]>
Back to Friends of Bald Mt. Homepage
Created by: Masterpiece Productions of the Adirondacks
Webmaster
Last updated: May 8, 2008